PH7.

An Original Peter Kaye Photograph Autographed By The Beatles Just As Ringo Had Joined The Band


(Scroll down to view all available images for this item!)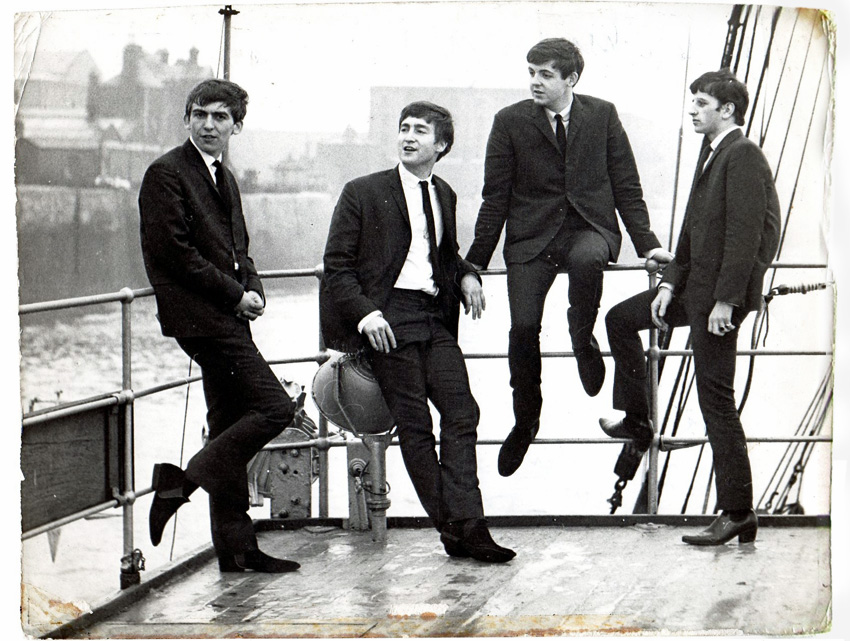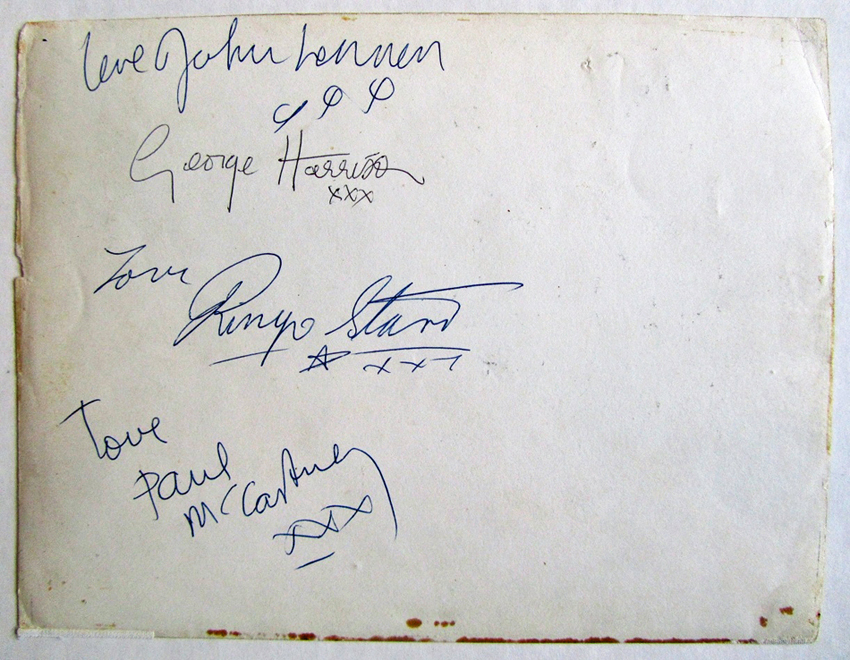 PH7. All Four Beatles Autographs Signed In Late 1962 On The Reverse Side Of An Original Peter Kaye Photograph
In the late 1950s, Liverpool photographer Bill Connell moved his recently-opened Peter Kaye Studio into a three-story, double-fronted shop at 174 Park Road in the Dingle area of town. With Brian Dawe as his assistant and Les Chadwick as his main photographer, Connell ("Peter Kaye") began to make a name for himself around the city doing family portraiture, wedding photography, commercial photography and theatrical sittings. When Bill Harry first launched his Mersey Beat newspaper in 1961, he contacted Les Chadwick at Peter Kaye because he was a close friend of Les' from the Liverpool Art College and was impressed with the photos he'd taken for the college news sheet. Harry's call came with a proposal. In exchange for photo credits, ads in Mersey Beat and a plea to local bands to use the services of Peter Kaye Studios, Chadwick and Connell would take photos commissioned by Mersey Beat. The deal was done.
In 1962, Brian Epstein hired the Peter Kaye Studio to take photos of The Beatles, requesting that Connell "provide photographs that would match the unique Beatles sound". What resulted were the first publicity photos taken of the band with its new drummer Ringo Starr. In late September 1962, during a one-day outdoor Liverpool shoot, Les Chadwick took some of the most indelible shots of the new Beatles lineup. Among the photos taken were those shot at The Bally (a local dumping ground) on the dock road as well as several shot on Liverpool's Albert Docks, using the cityscape as a backdrop. After the dock photos were done -- amid a steady drizzle -- Chadwick took the group for a session aboard the fire boat The Salvor.
Epstein ordered several hundred copies of the photos taken at this Liverpool "day out" session and demanded to have the prints within two days. Some would be for press use and some would be available to fans. Instead of using a processing house, Connell, Chadwick and Dawes processed the film the hard way, making the prints in-house on very modest equipment. It was a laborious, often frustrating process for the studio, but they ultimately delivered by Brian's deadline. Peter Kaye Studio would soon take some of the best-known shots of The Beatles at the Cavern.
Offered here is an original Les Chadwick photo print of The Beatles aboard The Salvor, taken on that famous day on the Liverpool docks and signed on the reverse side in late 1962 by all four Beatles. Each Beatle has signed in blue biro, except George Harrison, who has signed in black. All four have added three "XXX"s (kisses) to their signatures and everyone but George has prefaced his signature with "Love". This rare original signed photo, which measures 8 1'2" x 6 ½", is not only one of the earliest official images of the final Beatles lineup, but also one of the earliest sets featuring Ringo as a band member. The photo is in fine condition with a few signs of wear and age. The autographs are bold, complete and among the last signed before their signatures began their slow evolution from a crude look to the more familiar fluent style that would develop in 1963. This is a superb example of an early Beatles "Ringo" autograph set on the back of one of the most iconic pre-fame images of the group…..$15,000
---