PH8. All Four Beatles Autographs On The Reverse Side Of An Original Angus McBean Photograph, Signed In Mid-1963


(Scroll down to view all available images for this item!)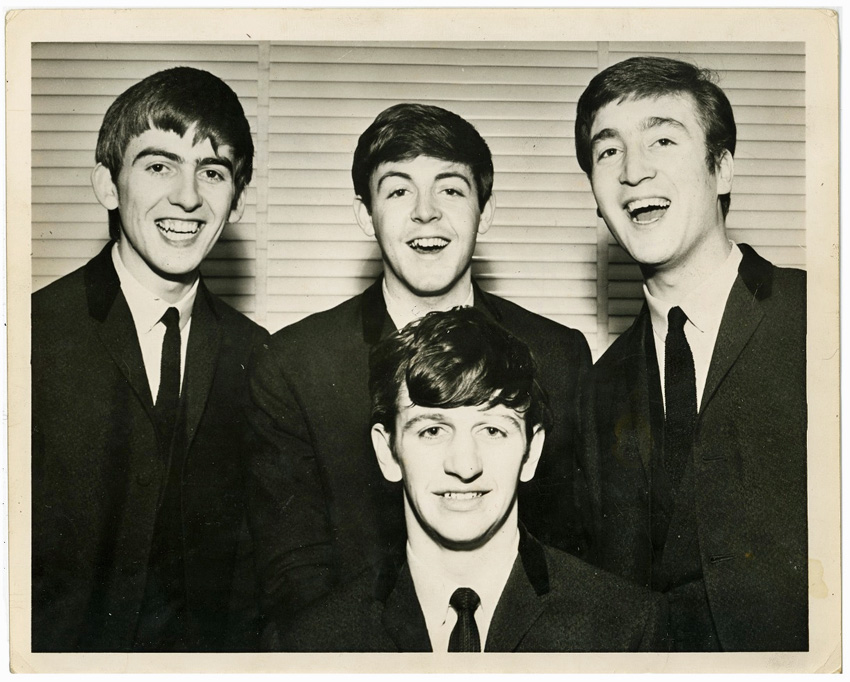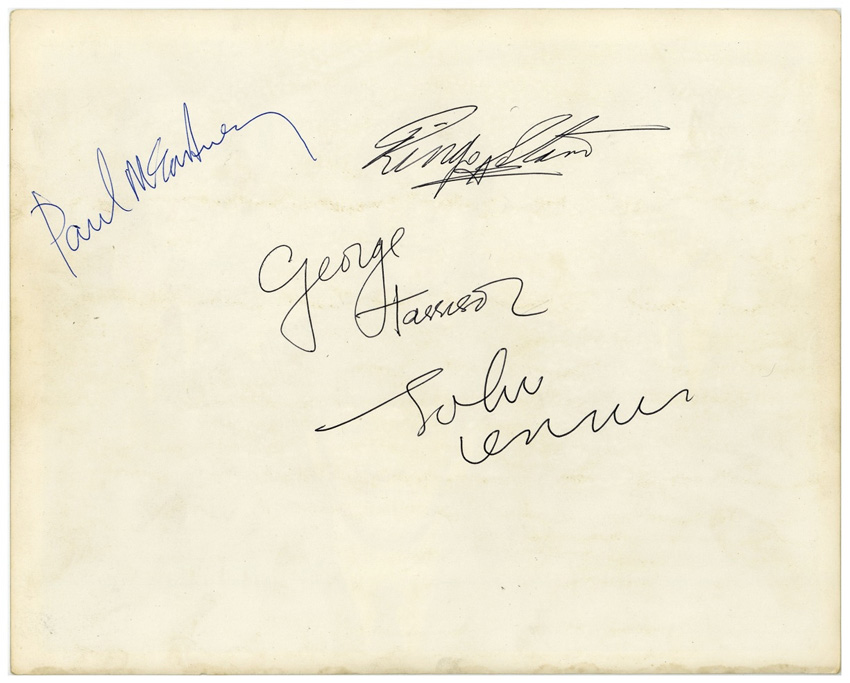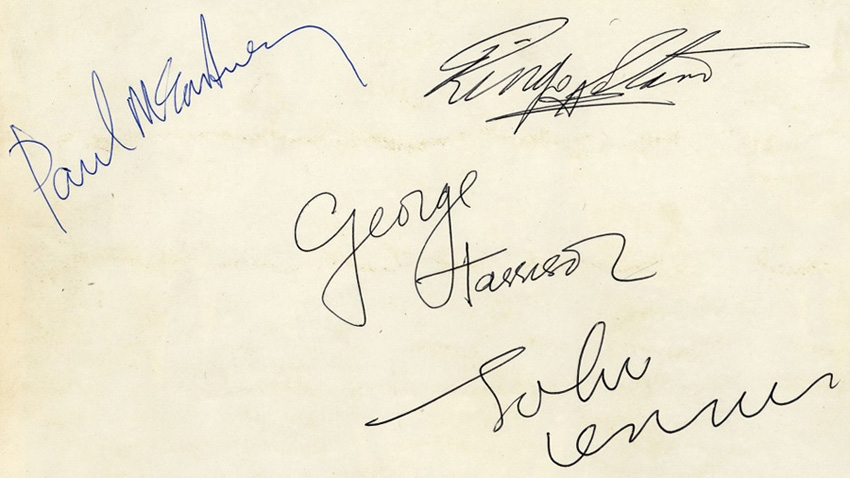 PH8. All Four Beatles Autographs On The Reverse Side Of An Original Angus McBean Photograph, Signed In Mid-1963
In the Beatles' early years, as manager Brian Epstein crafted their image and spearheaded their publicity machine, it wasn't unusual for the group's schedule to include multiple events in a single day. Monday, January 21, 1963 was one of those days. In the morning alone, they would attend a photo session and make a radio show appearance. As convenience would have it, both would take place at EMI House, 20 Manchester Square, in London.
The photo session was conducted by veteran theater photographer Angus McBean for the purpose of creating some new publicity portraits. McBean took numerous shots of the band against a wall of window blinds and also took several of them peering around a corner in a hallway. However, McBean's most iconic image of the group would be one from a series of photos he also took of the group at EMI House, but at a different session. His indelible shot of The Beatles gazing down from the railings of the EMI house stairwell would be used for the cover of The Beatles' first album, entitled "Please Please Me".
The radio show that morning would constitute their third appearance on EMI's plug show The Friday Spectacular. The taping, which took place in the ground floor studio at EMI House in front of 100 teenagers, would be later broadcast on Radio Luxembourg. After an interview with hosts Shaw Taylor and Muriel Young, studio recordings of Please Please Me and Ask Me Why were played. Tony Barrow, who would later become The Beatles' press officer, saw this appearance as a turning point -- at least in his opinion of the band -- and proof of their growing popularity and fame. In his sleeve notes for the "Please Please Me" album, Barrow referred to this very appearance:
"It was during the recording of a Radio Luxembourg program in the EMI Friday Spectacular series that I was finally convinced that The Beatles were about to enjoy the type of top-flight national fame which I had always believed that they deserved. The teen-audience didn't know the evening's line-up of artists and groups in advance, and before Muriel Young brought on The Beatles she began to read out their Christian names. She got as far as John ... Paul ... and the rest of her introduction was buried in a mighty barrage of very genuine applause. I cannot think of more than one other group - British or American - which would be so readily identified and welcomed by the announcement of two Christian names. To me, this was the ultimate proof that The Beatles (and not just one or two of their hit records) had arrived at the uncommon peak-popularity point reserved for discdom's privileged few. Shortly afterwards The Beatles proved their pop power when the by-passed the lower segments of the hit parade to scuttle straight into the nation's Top Ten with their second single, "Please Please Me".
The photo offered here was taken on that momentous January day by Angus McBean and was autographed beautifully on the reverse by all four Beatles, later in the year. Each has written his name legibly and boldly, with John Lennon, George Harrison and Ringo Starr using a black ballpoint pen to sign, while Paul McCartney has signed in blue ballpoint. The photo, which measures 10" x 8", is in excellent condition, with very minor signs of ageing present. The images speak for themselves - this is an exceptional set of autographs on a great photograph that has been very well kept over the past 50 years.
Autographed Beatles photos in any form are becoming increasingly more difficult to obtain. Although this one has been signed on the back, it's a wonderful display piece, an equally prudent investment and a showcase artifact that captures the band in the midst of their inevitable ascent to worldwide acclaim…..$14,000
---