SA2. The Nicest Signed "Please Please Me" LP Cover In Existence, With Impeccable Provenance
(Scroll down to view all available images for this item!)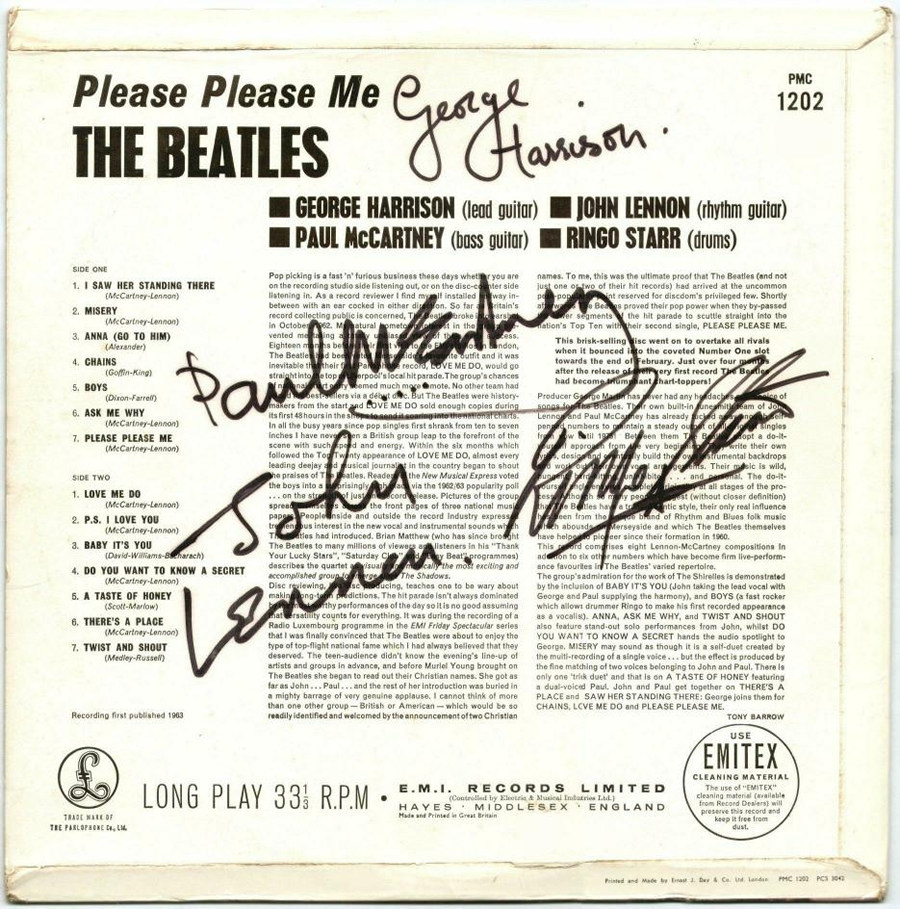 PICTURED BELOW is the article that appeared in the Plymouth Evening Herald on July 3, 1995.
Please note that a copy of this article will ACCOMPANY the signed album.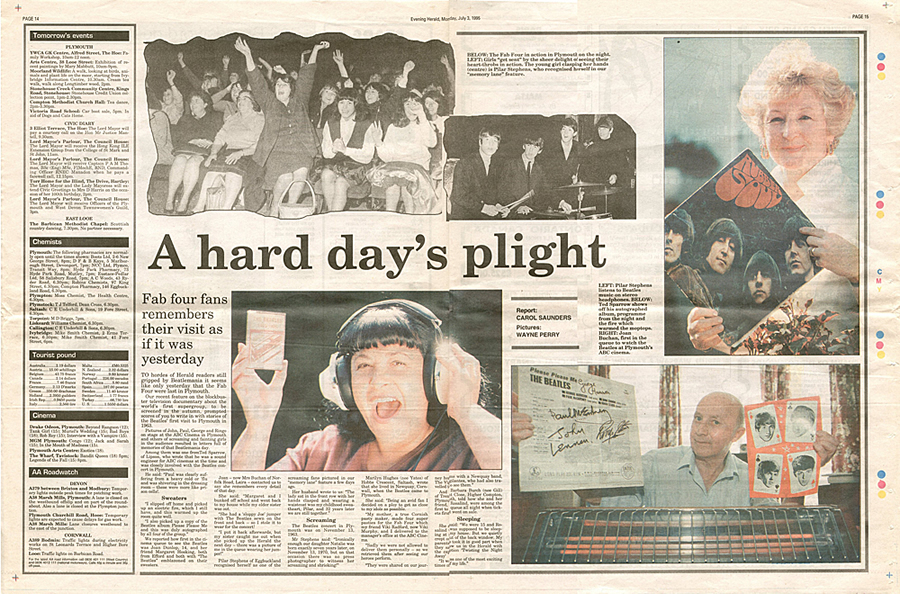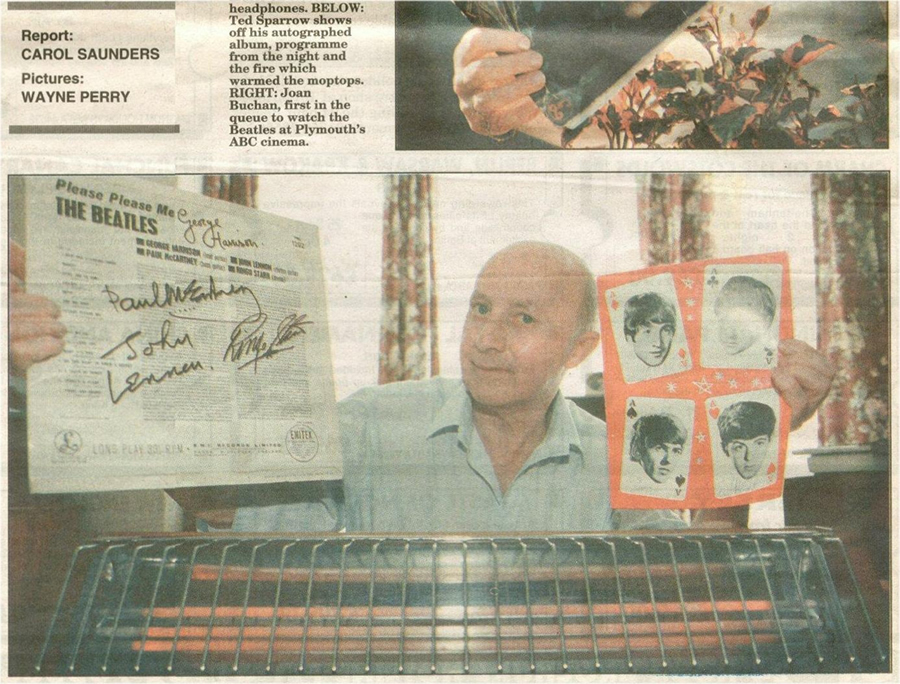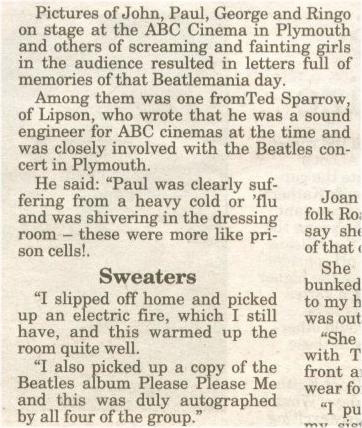 SA2. The Nicest Signed "Please Please Me" LP Cover In Existence, With Impeccable Provenance

Throughout 1963, The Beatles' popularity began to grow beyond Merseyside as they gained national attention across Britain. The slowly-building hype culminated on October 13th with their appearance on the television show "Sunday Night At The London Palladium", a show that clearly set the stage for what was to come. As legend has it, the next day the mainstream media began using the term "Beatlemania" to describe the fan frenzy that accompanied every Beatles appearance.

Just two-and-a-half weeks later, on November 1, 1963, the group embarked on an Autumn tour, their fourth package tour around Britain in ten months. The schedule was grueling - 34 towns, with two "houses" per night and barely a night off. There was only an occasional break, one taking place just 3 dates into the tour when they made their now-legendary appearance at the Royal Variety Show. Their 10th stop was in Plymouth on November 13th, where they played two performances at the ABC Cinema. These shows were almost canceled because Paul McCartney came down with a case of gastric flu just the day before. In fact, their show at Portsmouth the previous evening had to be canceled for that very reason. The Plymouth shows seemed likely to follow suit. However, on the day of the Plymouth gigs, the group was interviewed by Stuart Hutchison for a television show called "Move Over, Dad!". Hutchison began the conversation by asking Paul how he was doing after his reported "collapse". Paul assured him that he hadn't collapsed, but did confirm that he'd had "a bit of flu" but was now feeling fine.

As the band relaxed in the chilly confines of their cold dressing room that evening just prior to one of the Plymouth shows, Paul came down with a case of the "shivers". Hoping to prevent a possible relapse, a sound engineer working the venue that night came to Paul's rescue. Ted Sparrow of Lipson, a country suburb of Plymouth, hurried home to pick up an "electric fire" (space heater) that would nicely warm up the room for the recovering Beatle bassist. While he was home, he wisely remembered to grab his "Please Please Me" LP. It was his only choice of LPs as the band's second album "With The Beatles" wasn't due to be released for another nine days (on November 22nd).

After returning to the dressing room with heater and album in hand, Sparrow asked the boys if they would sign his LP. Naturally, they obliged him. They flipped it over and, right on top of the liner notes, boldly signed their names using a nice, thick black marker. The resulting signatures were not only very pronounced but unusually large. Better yet, they were as beautifully written as one would hope them to be — classic textbook examples of The Beatles' autographs.

Presented here is that same album signed 47 years ago on that crisp fall evening in Plymouth. This is one of the finest examples of Beatles signatures from that era and certainly among signed albums. It was customary for the group to sign the reverse side of their LP's as the glossy front covers were difficult to sign with the ballpoint pens of the day. The provenance for this piece is impeccable and comes with Ted Sparrow's story as told in a lengthy July 1995 article published in the Plymouth Evening Herald detailing the memories of those who saw The Beatles perform in the town on that fall '63 tour. Mr. Sparrow has been photographed for the article, showing him holding his prized LP in one hand and what he claims is the program from that same evening. It must be noted that although the photo caption states to be the program from that 1963 show, it is not. More than likely, Mr. Sparrow also attended the Plymouth show the following fall as the pictured program is from the Beatles-Mary Wells tour from October 1964. This LP was unquestionably autographed by The Beatles in November 1963, as the signatures date precisely from that period. It was signed nine days before the release of their "With The Beatles" LP, which was issued the very day that President Kennedy was gunned down an ocean away in Dallas, Texas. Within three months, The Beatles would conquer the civilized world.

This autographed album cover comes with a handwritten letter from Ted Sparrow recounting the day he obtained the signatures, as well as the original vinyl record. Fully-signed Beatles LP's are very difficult to obtain now, and this particular one features the nicest and boldest set of authentic signatures ever found on one of their albums. The signatures couldn't be more perfect, with every letter of each name present. The album cover is in excellent condition, having been well preserved by Mr. Sparrow over the years. A stunning full set on their iconic first album, this is by far the nicest example of "Please Please Me" signed by The Beatles to surface to date.....$60,000
---