SI12. BOAC postcard signed by The Beatles with Jimmie Nicol in June 1964


(Scroll down to view all available images for this item!)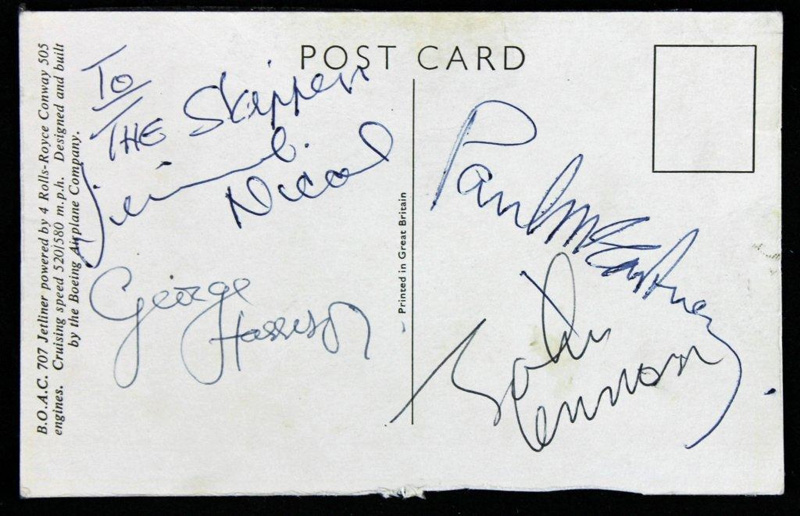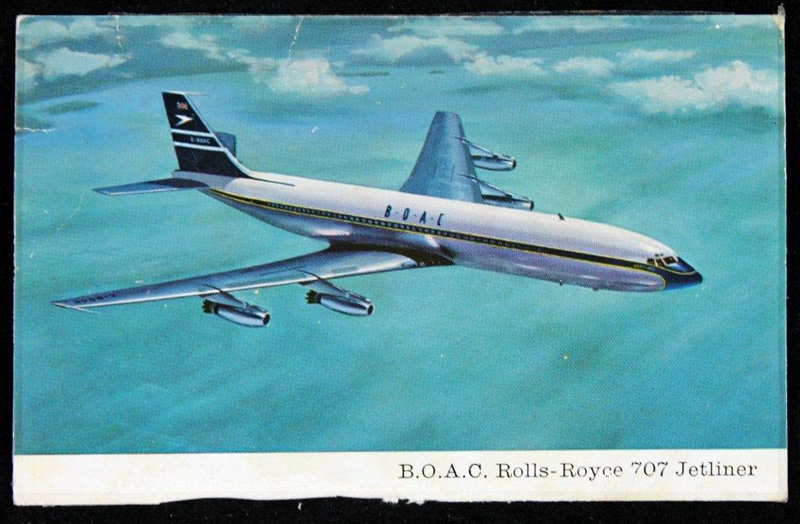 SI12. BOAC postcard signed by The Beatles with Jimmie Nicol in June 1964
On June 3, 1964, Ringo Starr was stricken during a morning photo shoot in Barnes, UK and taken to University College Hospital. There, with a temperature of 102°, he was diagnosed with tonsillitis and pharyngitis. With The Beatles' first world tour scheduled to begin in Copenhagen, Denmark the following day, the band was faced with either cancelling part of the tour (which really wasn't an option) or securing a replacement drummer for Ringo. Though John and Paul quickly accepted the notion of a fill-in drummer, George Harrison had to be persuaded. Brian Epstein and George Martin convinced him it was their only realistic option.
Jimmie Nicol, founder and drummer of a group called The Shubdubs, was recommended by George Martin because Nicol had recently done some session work for one of Epstein's acts, Tommy Quickly, and also because he was familiar with Beatles numbers, having worked on an album called Beatlemania.
An impromptu audition was held at EMI's Abbey Road studios where Nicol rehearsed six numbers with John, Paul and George. He was reportedly offered £2,500 per gig, plus another £2,500 as a signing bonus. On top of that, he was now a Beatle! Two hours after the rehearsal, he was packing his bags for Copenhagen.
Donning Ringo's stage suits, with trousers that were too short, Nicol continued as an able substitute for Ringo in Denmark, The Netherlands, Hong Kong and Australia before playing his eighth and final show in Adelaide. Ringo, after having his tonsils removed, was released from the hospital on June 11th and rejoined this band mates on June 14th, the day before their Melbourne concert. Jimmie Nicol's short stint with The Beatles was over.
Unable to say goodbye to the Boys because they were sleeping, Nicol was taken to the Essendon Airport in Melbourne where Brian Epstein presented him with a £500 check and an inscribed gold wristwatch. Just as quickly as he had been plucked from obscurity to join The Beatles, he returned to relative anonymity. While he remained active in the music business until 1967, recording and touring with other bands, he never came close to the fame he'd attained in his 11 days as a Beatle. To this day, he has refused to tell his story.
Because he was with The Beatles for such a short period of time, pieces signed by John, Paul, George and Jimmie are quite scarce. The BOAC postcard offered here (which measures 5 ½" x 3 ½") is one of only a dozen or so Beatles with Jimmie Nicol autograph sets. Dedicated in Jimmie's hand "To The Skipper", it has been boldly autographed in blue ballpoint by Jimmie, Paul and George, while John has used a black ballpoint pen. The bottom edge of the postcard has been trimmed slightly, without affecting the signatures in any manner.
This is the ideal piece for the collector who already possesses authentic Beatles sets featuring Pete Best and Ringo Starr -- or for the collector who simply enjoys the most obscure of Beatles artifacts. Jimmie Nicol was the only musician to ever replace a member of The Beatles after their rise to worldwide fame in early 1964 and was only with them for a few days. Consequently, this autograph set variation is not only unusual and desirable, but very scarce…..$9,500

---