SI26. An Artistes & Staff Pass From 'The Royal Variety Performance', Signed By The Beatles On That Historic Night

(
Scroll down to view all available images for this item)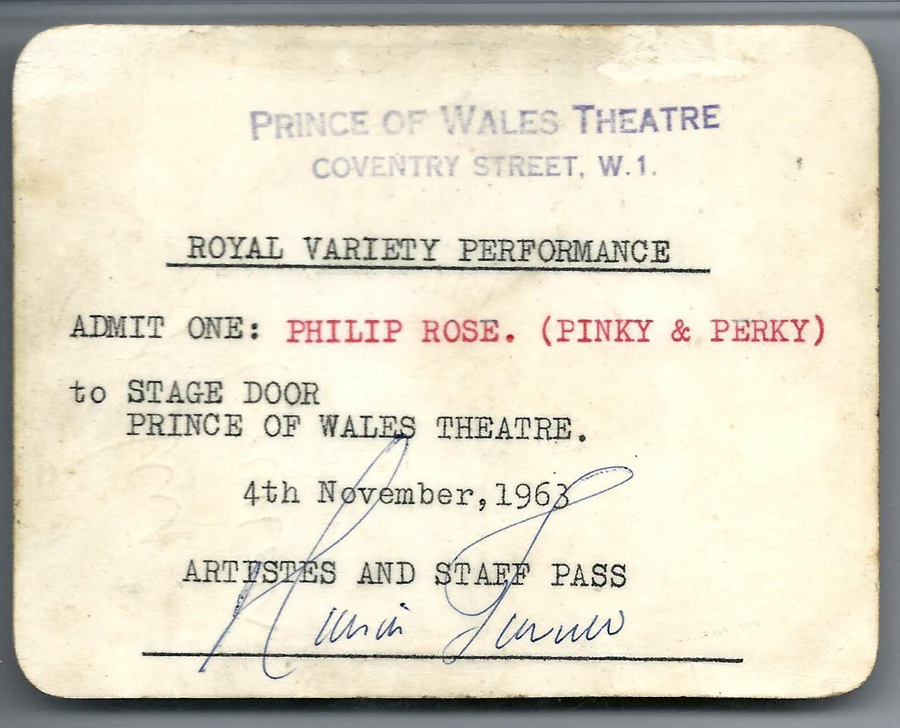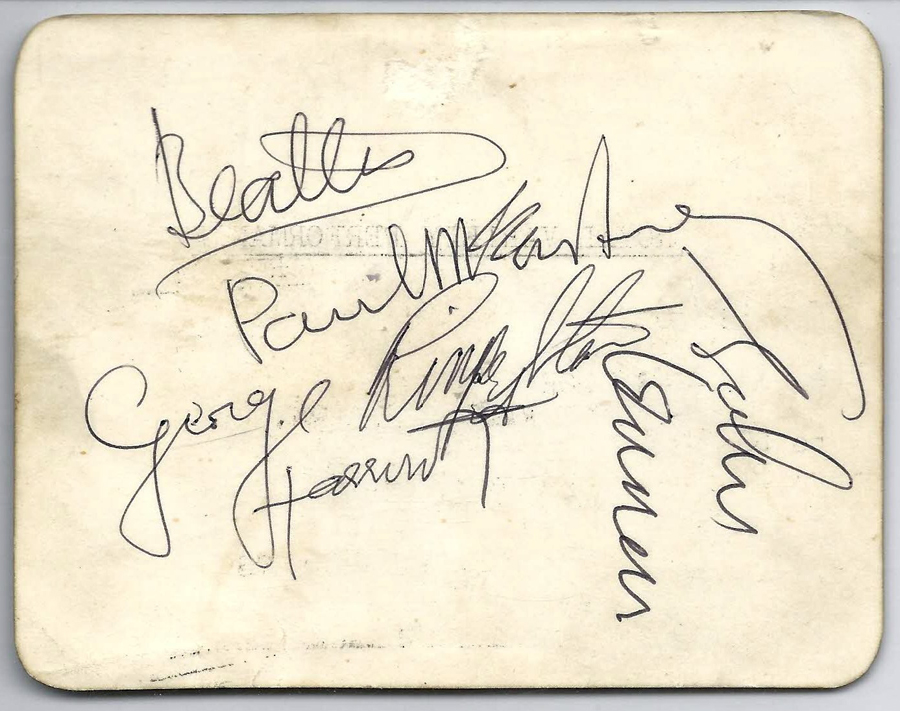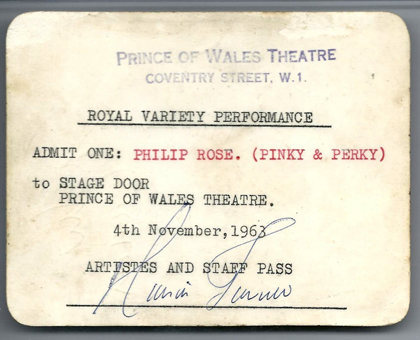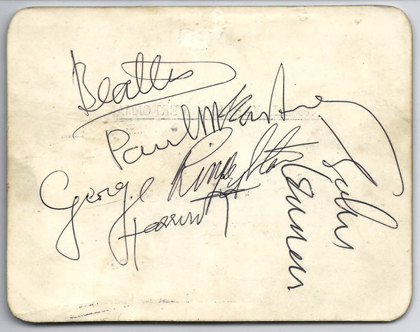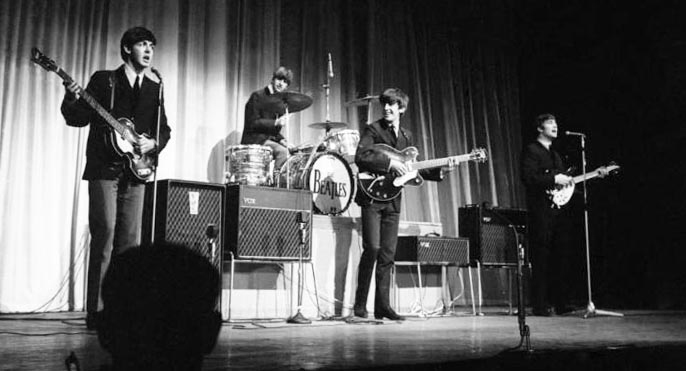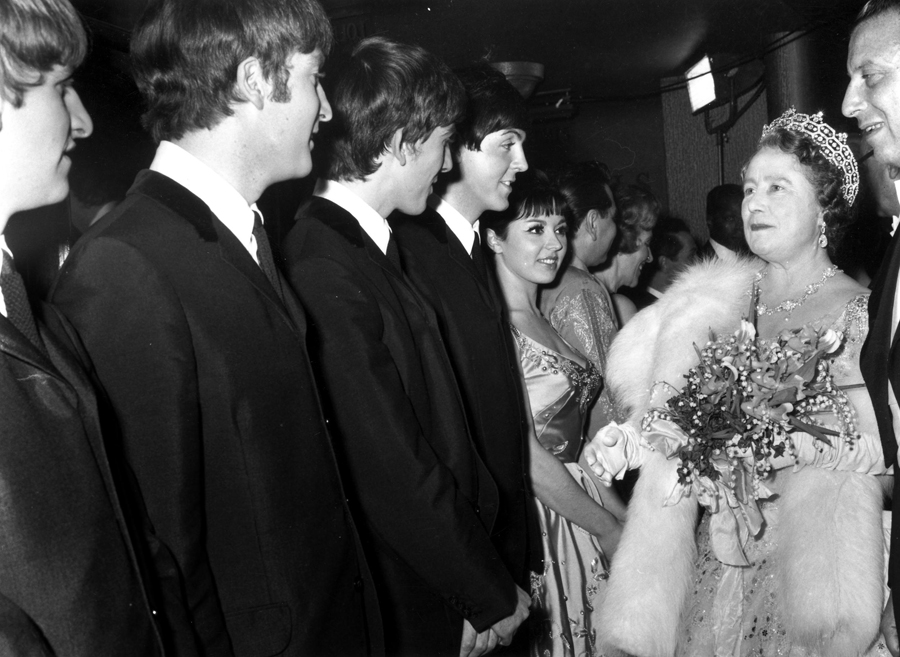 SI26. An Artistes & Staff Pass From 'The Royal Variety Performance', Signed By The Beatles On That Historic Night
The steep trajectory that The Beatles amazing rise to fame took in the year 1963 showed no signs of going anywhere but upward at the same angle as the end of year approached. Having released their debut album "Please Please Me", which shot to #1 and also the chart topping singles "From Me To You" and "She Loves You", in early November the band were poised and ready to release the freshly recorded and future smash hit "With the Beatles" album.
On November 4, 1963 The Beatles performed at the 'Royal Variety Performance' at the Prince of Wales Theatre in London, and it was to become one of their most important concert appearances. The 'The Royal Variety Performance' (also called 'The Royal Command Performance) had roots going all the way back to 1912. It was a gala evening held annually and by the 1960's, it was popular variety show consisting of family entertainment which included singing, dancing, comedy and other forms of enjoyment for the viewing public, as the show was broadcast on television by the British ITV TV network. The acts were all there at the request of the Royal Family.
All four have autographed the back of this artistes and staff pass very nicely in black ballpoint pen, with Paul McCartney adding "Beatles" above his signature. This pass, which measures 4 ½" x 3 ½", was given at the door to Philip Rose from the weekly half hour television show "Pinky and Perky" (who were actually marionette pigs). The show appeared on BBC television and Philip Rose was a manipulator of one of the puppets, and also a wise man to have his pass autographed by The Beatles that evening.
In attendance were both The Queen Mother and Princess Margaret and this is the very performance that saw John Lennon say just before The Beatles' final song "Twist and Shout", "For our last number, I would like to ask your help. Will the people in the cheaper seats, clap your hands? And for the rest of you, if you'll just rattle your jewelry…..".
For The Beatles to play The Royal Variety show in 1963 was something that even they could not have imagined as the year began, when they were barely known in Great Britain outside of their native Liverpool. Through hard work, extensive touring, and of course their amazing music – the band's popularity spread like wildfire, bringing them to the place where they were far the biggest thing in England by the time November 4th rolled around.
While The Beatles did sign a few items on this momentous evening, the number of autograph set that have materialized to date is very low: a few programs, a couple of artistes passes and the odd autograph book page.
The Royal Variety Performance occurred less than 100 days before The Beatles' historic first U.S. visit, and while it was indeed a great achievement for them – it was also the last of their ascending big steps before their tremendous television appearance on "The Ed Sullivan Show". Here is an opportunity to own a piece of this historic evening that occurred at the Prince Of Wales Theatre on November 4, 1963…..$20,000

---